Scott Vincent, DMD, MS

Dr. Scott Vincent was born and raised in Salt Lake City, Utah, and graduated from Skyline High School, where he was selected as both an all-state football and baseball player. He attended the College of Eastern Utah, Dixie College and finished his undergraduate education at the University of Nevada-Las Vegas, where he was selected as an Academic All-American baseball player.


Dr. Vincent received his D.M.D. with high honors from Oregon Health & Sciences University (OHSU) in Portland, Oregon. He subsequently earned his Certificate of Specialization and Masters of Science in Orthodontics at OHSU as well, and focused his thesis research on Invisalign. While in dental school, Dr. Vincent received numerous awards, including induction into Omicron Kappa Upsilon (OKU-the dental scholastic honor society), the Academy of Oral Medicine Award, the Academy of Dental Materials Award, and the American College of Dentists Award. He is a member of the following organizations: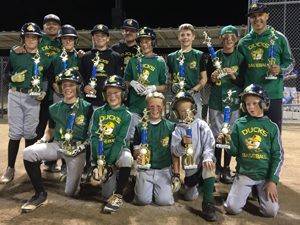 American Association of Orthodontists
American Dental Association
Utah Dental Association
Academy of General Dentistry
International and American Association for Dental Research
Dr. Vincent and his wife, Jennifer, who is a physical therapist, have been married since 2000. They have three wonderful children: Maddox (February 2004), Parker (April 2006), and Kensley (Oct. 2008). In addition to sharing his free time with his family, Dr. Vincent enjoys outdoor and fitness activities, including golf, mountain biking, skiing, and fly fishing. He and his family make their home in Draper.
Dr. Adam Martin

Dr. Adam Martin knew at the age of 15 that he wanted to be an orthodontist!
Dr. Vincent and Dr. Martin became friends back in 2005 when they both started in Orthodontics here in Utah. After Dr. Martin took several years treating smiles in Kansas, Dr. Vincent recruited him to come back to Utah and join the team at Vincent Team Orthodontics!
Dr. Martin is married to his sweetheart Kara. They have two very active boys and recently added a new baby girl. When not in the office, Dr. Martin is an avid downhill skier and loves tennis, golf and biking. He is also fluent in Spanish.
In clinical dentistry and academics, Dr. Martin excelled. He went to San Antonio for Dental School in 1999. After graduating Summa Cum Laude with his DDS in 2003, he attended the Baylor College of Dentistry (Dallas, TX) for specialty training in orthodontics. He received an MS in Orthodontics in 2005. For his master's thesis, Dr. Martin created a survey on smile attractiveness and delved into the research on the beauty of the smile. He continues to stay up with the latest research on smile attractiveness.
Dr. Martin is excited to be back in Utah where he can enjoy time with family and do all the beautiful activities that Utah has to offer!
---
Meet Our Team
Dr. Scott Vincent is very selective about choosing team members for Vincent Team Orthodontics and hires only the most committed and outgoing individuals. We invite you to meet the warm, friendly people who assist our orthodontist in providing family-oriented orthodontic care in Sandy and Park City, Utah. We look forward to meeting you, too!
Dalyn – Treatment Coordinator
Dalyn has been working with Dr. Vincent since 2008, so she has a seen a lot of patients come and go throughout the years. One of the things that she loves about VTO is the patients who share their lives with us. The other part which makes her job so enjoyable is the amazing team and of course, Dr. Vincent.
Out of the office Dalyn enjoys watching her two boys plays football, basketball and lacrosse all across the country. Her oldest son is going to college in Rhode Island to play lacrosse while her youngest is still in high school at Juan Diego. She loves spending time outdoors and hiking with her golden retriever, Parks.
Chelsi – Office Manager/Marketing Director
Chelsi is the Office Manager and Marketing Director at Vincent Team Orthodontics. She has over 17 years of experience in the dental field and loves her job!
Chelsi has been married to her best friend and amazing husband for over 15 years. Chelsi has four adorable, crazy, and lovable kids named Parker, Payton, Paxten and Paisley. Yep, they are all named with the letter P. It can get crazy at times, but she loves crazy!
When she is not getting to know patients at the office, you can find Chelsi out playing with her kids, watching them participate in theater, shopping for crazy good deals and taking unbelievable amounts of photos.
Mindy – Clinic Team Lead
Mindy has been an Orthodontic Assistant since 1996 and she joined VTO in 2010. She loves getting to know our patients and being part of developing their beautiful smiles. She has been married since 1996 and has 4 amazing kids. She loves to bike, run, hike, camp, travel and spend time with her family.
Jade – Clinic Team Lead
Jade has been part of VTO since August 2015 and been in dental since 2010. She started with general dentistry and worked into her ultimate passion, orthodontics. She loves her patients and seeing their transformation and their confidence grow because of their smiles. Jade is a mother of 1 to her awesome beautiful little girl. She is her best friend and she loves to spend as much time as she can with her. In her spare time she enjoys crafts, road trips, traveling, concerts, and being with her family.
Lindsey – Clinic Team Lead
Lindsey has worked in the dental field since 2014. She joined the VTO family in May 2016 and has loved it ever since. She has been married since 2014 and it's easy to say her husband is her best friend. She loves doing anything outdoors, especially hiking. Her passion is photography. And if she is not doing a photoshoot or working, you will probably find her at the gym. She loves anything DIY and will spend a solid hour or two at Target.
Amanda – Orthodontic Assistant
Amanda has been with VTO since 2016 as our records tech. She enjoys being the first person to get to work with our new patients as she does their "photo shoots." She has a beautiful little girl Ariah who is three. Amanda is a DIY-er so she's always coming up with some crafty projects with Ariah, mostly making tutus and dress up princess clothes. She enjoys spending time with her family camping, hiking and shopping.
Kayla – Orthodontic Assistant
Kayla recently joined Vincent Team Orthodontics. She is from Herriman and graduated from Herriman High School. She has been in ortho for over 2 years. In her free time, Kayla enjoys camping at the sand dunes, riding dirt bikes, and playing golf!
Emily – Scheduling Coordinator
Emily is a recent addition to our office, but has worked in the orthodontic field for close to five years as both scheduling and insurance coordinators. She is the Scheduling Coordinator at our office and loves greeting and visiting with the patients as they come in for their appointments. Emily has been married to her husband for a "very long time" and has five beautiful children; three daughters and two sons, plus two sons-in-law and three dogs. She stays very busy at her time away from the office. She loves to spend all her spare time hanging out with her kids; "They are my everything and are growing up way too fast." She loves vacationing with family, road trips, shopping and being outdoors. One crazy fact about her is that she doesn't like chocolate.
Chelsea – Sterilization Technician
Chelsea is from Riverton, Utah. She is new to Vincent Team Orthodontics but has a beautiful Vincent Team Smile and knows our office well! She is currently engaged and planning to marry on April 21st, 2020! Her favorite thing to do is hang out with her fiancé, Alex, in literally ALL her free time. Chelsea loves rainy days and will take it over a warm sunny day.
Chantele – Financial Coordinator
Chantele was born in Salt Lake City and graduated from Copper Hills High School in 2007. She has been in the dental field since 2007 and in orthodontics since 2009. She has both assisted and worked in the admin area. Chantele has two kids (Kenzlie, age 9, and Karter, age 5) and three cats (Zoee, age 3; Chloee, age 2; and Lexee, age 1). In her free time, Chantele loves to spend time watching her daughter play basketball. She also loves camping with her family.
Alexyss – Dental Assistant
Alexyss is from West Jordan. She graduated from Kearns High School in 2019 and has been in the orthodontic field since then. She recently started working for Vincent Team Orthodontics in May 2020. She enjoys spending time with family and looks forward to getting to know all our wonderful patients.
Benjamin – Dental Assistant
Ben is from Mahtomedi, Minnesota. He graduated from Northern Arizona University in 2016. He is training to become a dentist and he has been working as an assistant since 2017. He loves mountain biking and skiing and his two dogs, Millie and Penny!
Jen – Scheduling Coordinator
Jen, who is the wife of Dr. Vincent of almost 20 years, has been a part of Vincent Team Orthodontics since the beginning. She has recently transitioned from doing some behind-the-scene duties, which included marketing and accounting, to a more visual role in the office helping out at the front desk, scheduling, and her passion, decorating. Formerly, a physical therapist, Jen enjoys the similarities between the two professions, including being able to meet new people on a daily basis and helping to provide a positive experience in a fun and comfortable environment for everyone that walks through our door.
When not in the office, Jen enjoys going to the gym; daily walks with her two Pugs (Slugger and Jasmine); working out in the yard; doing anything outside in the sun; going to outdoor Country concerts with her identical twin sister, Angie; and especially, cheering on her three kids at their many Golf tournaments (Maddox), Lacrosse games (Parker), and Cheer competitions (Kensley).